Dental
---
---
Dental department is known to deliver high quality dental treatments. We are able to maintain a running out patient department and inpatient facilities, since its establishment. The dental outpatient department consists of different departments headed by respective specialists providing primary to tertiary dental care.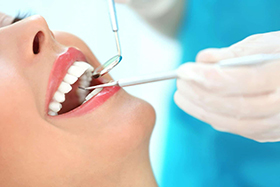 Diseases/Conditions Treated
Dental cares and its conservative and endodontic management
Gum diseases and its conservative and periodontic surgery
Skeletal and dental discrepancies
Missing teeth and its prosthodontic management
Maxillofacial trauma
Orthodontic and dentofacial corrections
Maxillofacial cysts, tumours and cancers
Minor oral surgery
Cosmetic dentistry
Maxillofacial reconstructive surgery
Management of acute and chrome space infections
Implant dentistry
Services Offered
In addition to an expert and learned professional team,the department is equipped with advanced instruments and gadgets
The department equipped with four dental units
Latest technologies like laser unit, cautery machine, x-smart endomotor, bleaching unit are also available
A in-house dental lab facility is offered. Digital X-Ray and OPG are available in the dental radiology section
In-patient care is available in both rooms and wards managed by qualified nursing personnel in Head, Neck, ENT and Maxillofacial section with around rooms and ward beds
Dental Services
Digital Radiography (highly diagnostic)
Coronoplasty (Bite Correction to correct traumatic bite)
Bite Guards Fabrication (is used in preventing high stress fractures by grinding of teeth)
Tooth Polishing
Temporary Restoration (fillings)
Permanent Restoration (fillings)
Impression making
Surface Scaling with Ultrasonic
Oral Prophylaxis
Crown and Bridge Cementation
Emergency RCT (with Pulp Extirpation only)
Emergency Extraction
Dental Surgeons in Dental Specialties of Savera Hospital focus their full attention on prevention, diagnosis and treatment of diseases and correction of irregularities involving the teeth, gums and other tissues of the mouth. Dental Specialists provide utmost care for patients who require specialized dental treatments.
---